Did the pipeline industry manipulate gas markets during Winter Storm Uri?
Widespread failure of the natural gas system during Winter Storm Uri in February 2021 not only caused days of blackouts and hundreds of deaths in Texas, it led to astronomical spikes in the cost of natural gas throughout the country – up to 300 times the normal price. 
All told, gas and electric utilities from Minnesota to Colorado to Texas paid hundreds of billions of dollars in higher costs to gas pipeline companies, most of which they've already turned around and passed on to their customers through higher rates. Meanwhile gas producers and pipeline companies made record profits — billions extra in just a few days.
In the chaotic days after the disaster, state attorneys general in Kansas, Oklahoma, Arkansas, and Texas all vowed to investigate whether gas providers manipulated the market for gas by withholding the supply in order to jack up the prices they could charge. While the investigations languished for more than two years, at least one attorney general is finally suing a pipeline company over exorbitant costs during the storm.
States sue over absurdly high price of gas
Last month Kansas Attorney General Kris Kobach filed suit against gas pipeline giant Macquarie Energy, alleging that the company artificially inflated the cost of gas, costing Kansans more than $50 million. The lawsuit notes that Macquarie made more profit in two weeks of selling gas during the storm than they normally make in four years.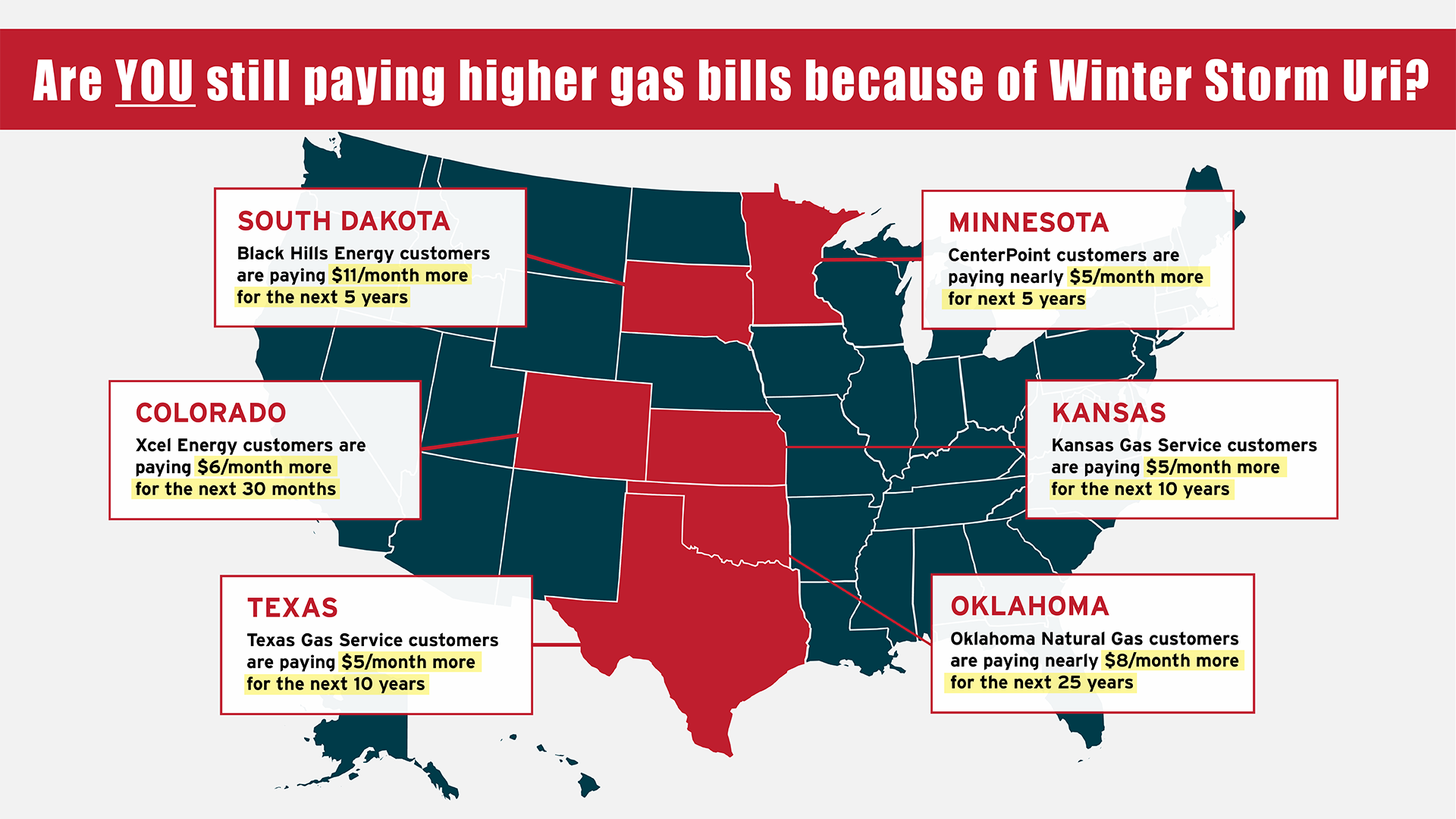 Kobach's action highlights the inaction from other decisionmakers who are supposed to be protecting Americans from the gas industry's greed. Texas in particular saw some of the worst price impacts. But Attorney General Ken Paxton, who received more than half a million in campaign contributions from the oil and gas industry during his last primary, has refused to comment on the status of investigations into gas price gouging.
The Federal Energy Regulatory Commission continues to investigate possible market manipulation and found "anecdotal evidence" that pipeline companies broke long-term contracts to make exorbitant profits selling gas on the open market. But two years later, there's been no word on the status of FERC's inquiry, even though millions of Americans are already paying higher energy bills to make up for the costs.
Millions of Americans are currently paying for Winter Storm Uri
Americans are currently struggling with shockingly high energy bills that are worsening energy burdens and leading to millions of low-income Americans losing access to energy for nonpayment. Though this is often correctly attributed to the higher wholesale price of gas as US gas exporters chase higher profits overseas, Uri-related costs have also elevated bills in many states for years to come:
As Tim Morstad, associate state director for AARP Texas, told the Dallas Morning News, "The legacy of Winter Storm Uri, beyond the lost lives, is the huge economic toll. Billions of dollars were generated in hours and Texans have to pay for that over the next few decades."
Storm costs show risk of our dependence on "natural" gas
The public deserves more details on whether these higher costs stemmed from market manipulation on the part of gas traders and pipeline companies who took advantage of a crisis during Winter Storm Uri. The storm also raises important questions about the reliability and economic risks of the gas system, which has repeatedly seen failures and price spikes during extreme weather events. Winter Storm Uri made it clear that there's nothing "reliable" or "cheap" about natural gas.